Monday, April 02, 2007
Fast Rap #2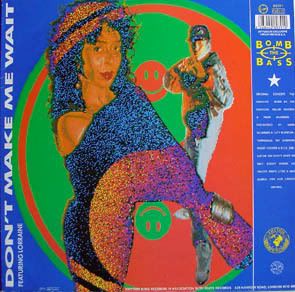 Bomb The Bass - Don't Make Me Wait (video)
Hold tight!

We take it back to 1988, and some mo' Fast Rap.

The UK dance label Rhythm King pretty much had the House/Rap scene on lock down in the late 80's, with chart success coming from the likes of The Beatmasters feat Cookie Crew, S'Express, Baby Ford and Betty Boo.

Bomb The Bass certainly created the most impressive RK legacy, with a string of popular singles including "Don't Make Me Wait", "Megablast", "Say A Little Prayer", "The Air You Breathe", "Winter In July" and of course the international club smash "Beat Dis".

Megablast is fondly remembered here on CHHV in 3 different versions; the 'Orginal Rap' and 'Rap Remix' versions feature UK Veteran MC Merlin, who also showed up the "Who's In The House" produced by The Beatmasters, which stormed the charts pretty much at the same time (also on Rhythm King).

The 'Original Rap' mix was considered too hardcore as BTB's official follow up to Beat Dis, so it was relegated to feature only on a Record Mirror magazine give away 7", making it quite rare and sought after at the time.

Tim Simenon gave Megablast a non rap makeover in the form of the 'Hip Hop On Precinct 13' mix (named so after sampling the theme from the film 'Assualt In Precinct 13'). This version ended up being the AA side to his more chart friendly "Don't Make Me Wait (feat Lorraine)".

A second 12" appeared shortly after promoting "Megablast Rap (Remix)" as the main A-side flipped with a Dub Mix of "Don't..".

Megablast enjoyed more success years later when it was used as the soundtrack to the Bitmap Brothers 16 bit computer game smash "Xenon 2" on the Commodore Amiga.

We'll leave it to you to decided which 'Blast' version has the most 'Mega', as well as featuring Don't Make Me Wait in video form.

Dance bwoy, and ya better dance fast... M-E-G-A - BLAST!
Comments:
Megablast (Original Rap) is so hard to find. I almost gave up. I just knew somebody, somewhere on the net would have it. Thank you so much. So hard to find it's unreal.
This after finding another old-skool jem in King Sun-D Moet's Hey Love. It was that Echo Falls advert that brought it back to me.
Forgot to add, I found London Posse's first 12" too on YouTube too. Another rare gem.
I just need International Karate by Demon Boyz to complete my rare gem hunt. If you have it, please upload.
Post a Comment
<< Home