Sunday, January 29, 2006
Maxwell's House #2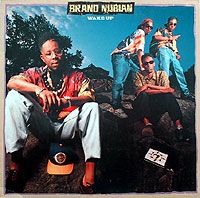 It's with great pleasure we return to the early work of Grand Puba. After the Masters of Ceremony dissolved, Puba hooked up with Dante Ross, who was recruiting new skool artists for his Elektra imprint. Puba had recorded a handful of solo tracks, but not enough for a full blown album. Ross persuaded Maxwell to collaborate with label mates Derrick 'Sadat X' Murphy and Lorenzo 'Lord Jamar' Dechelaus, who were also struggling to produce an lp's worth of debut material.

The group better known as Brand Nubian were then born, the first track to be released was "Feels So Good b/w Brand Nubian". This came out in 1990, but only created a minor buzz as hip hop was still being dominated by the west coast sound of NWA, Ice Cube, Above The Law etc. At the turn of the year, hip hop started to head back East again, with the emergence of new skool artists like K.M.D., Leaders Of The New Skool, Main Source & Black Sheep. A new laid back, jazz/funk sound with conscious lyrics was being created, and coincided with the Nubian's 2nd single "Wake Up". The song combined an afrocentric agenda, along with the feel good sound of Roy Ayers' "Everybody Loves The Sunshine".

Brand Nubian became front page material in the hip hop press during 1991. They gained the illustrious 5 mics award in The Source for their debut lp "One For All". Their 3rd single "Slow Down" went #1 in the billboard R&B and Rap charts, as well as #1 in Yo! MTV Raps' hip hop chart.

At the end of 1991, Grand Puba announced his departure from the Brand Nubian project. Maxwell citing his desire to have a shot at going solo, and took the group's DJ 'Alamo' K Jones with him. Elektra wanted to cash in on this publicity and released a remix single of "All For One b/w Concerto In X Minor". Puba met his contractial obligations by appearing in the video, which acted as one final hurrah to close out a very succesful 18 months for Brand Nubian.

Enjoy the videos!

Brand Nubian - Feels So Good (video)
Brand Nubian - Wake Up (video)
Brand Nubian - Slow Down (video)
Brand Nubian - All For One Remix (video)
Monday, January 23, 2006
The English Patient #1
Sunday, January 15, 2006
The Native Tongue #1
Wednesday, January 11, 2006
Maxwell's House #1
Sunday, January 08, 2006
Ship Shape and Bristol Fashion #1
Thursday, January 05, 2006
The Real McKoy.....
Tuesday, January 03, 2006
Happy New Year!!!!!!