Saturday, April 21, 2007
The English Patient #7
Monday, April 09, 2007
Back To The Grill Again
The Heavy Bronx Experiance #3
Monday, April 02, 2007
Fast Rap #2
Sunday, January 07, 2007
Fast Rap #1
Tuesday, December 26, 2006
James Joseph Brown Jr (3rd May 1933 - 25th Dec 2006) - The Godfather Of Soul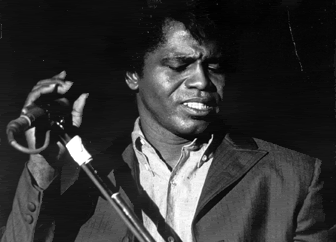 Most musical geniuses have flaws and Brown was no exception.

But he has also been a huge influence on Black culture over more than 5 decades.

He single handedly took on the pro Black baton on when Malcolm X was gunned down. Music-wise he achieved many firsts, most of his memorable hits coincided with the late 60's, nearly 20 years after he started recording music.

His best work by far was unearthed in the early 70's when he famously collaborated with Maceo Parker, Pee Wee Ellis, Fred Wesley and Bootsy Collins for a tighter, grittier, brand new 'funk' sound. The result was 3 albums in a single year (1973), capped by his best ever work on "The Payback".

The 70's saw many other acts taking the funk to a higher level, but if it wasn't for James Brown, the likes of Funkadelic, Parliament, The JBs, Maceo and the All Kingsmen, Bootsy's Rubber Band etc. would've have reached the heady heights they achieved during the 1970's.

Ironically Brown ignored the fashionable Black sound of P-Funk in the late 70's and embraced disco instead. He would continue to re-invent himself during the 1980's working with Afrika Bambaata way before a generation of new skool hip hop artists had heard of him (who launched their own careers by sampling his entire back catalogue!). By doing so these rappers introduced JB to a whole new generation of listeners. He scored his biggest ever hit with 'Living In America', and tried to maintain a high profile resulting from his emergence as a legend in hip hop circles, by collaborating with the likes of Full Force, Soul II Soul and Leaders of The New School (the latter was Busta Rhymes' original rap trio from the early 90's).

He continued to tour globally well into his 70's, most recently at Radio 1's Electric Proms in London earlier this year. I had the pleasure of seeing him live in 2002 at the Essential Festival in Bristol, even though he was starting to show his age by then.

Very few have achieved what Brown has done inside and outside of music over such a long period of time, and has influenced a number of different generations in different ways. His legacy shouldn't be about his mistakes, but an extensive catalogue of hugely ground breaking and influential music.


10 James Brown Song You Must Own:


Can I Get Some Help
Don't Tell It
Mind Power
Funky President
Hot (I Need To Be Loved Loved Loved)
Papa Don't Take No Mess
The Payback
Cold Sweat (parts 1 & 2)
Get Up, Get In To It & Get Involved
Blues And Pants

Rest In Peace
Saturday, December 23, 2006
Christmas Rappin' #4 - The 2006 Wrap Up!
Monday, December 18, 2006
Christmas Rappin' #3